Have you ever tried to send a video, PowerPoint, or other large attachment and received an error message stating that the file was too large? Perhaps your students are unable to submit an assignment to the DropBox because it exceeds the maximum file size?
If you or your students need to share large files, OneDrive is the tool to use. Using OneDrive, you can share the file via email or copy a link that can then be posted anywhere.
Ready to get started?
Step 1: Save the file to OneDrive - La Salle College High School
Step 2: Locate the file in OneDrive and select it

Step 3: With the file selected, click the SHARE button from the top bar or right-click the file and select SHARE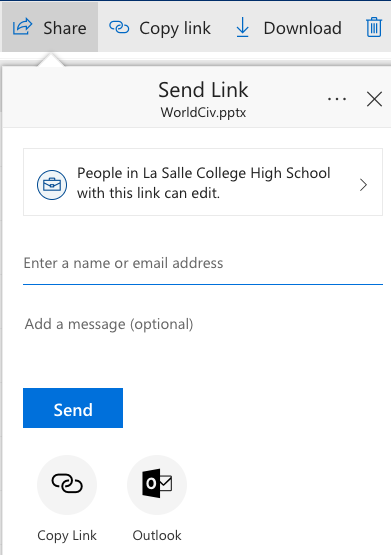 Step 4: Enter the recipient's email address and click send or click COPY LINK to get a direct link to the file
If you enter the recipient's email address, they will receive an email with a link to the file
If you copy the link, you can post the link into an email, on the portal, or anywhere else you'd like
When sharing files using OneDrive, you have the ability to make your file available to ANYONE or limit it specifically to La Salle College High School accounts (@lschs.org). Additionally, you can choose to provide editing rights or not. If you deselect "Allow editing", you can also block the ability to download the file.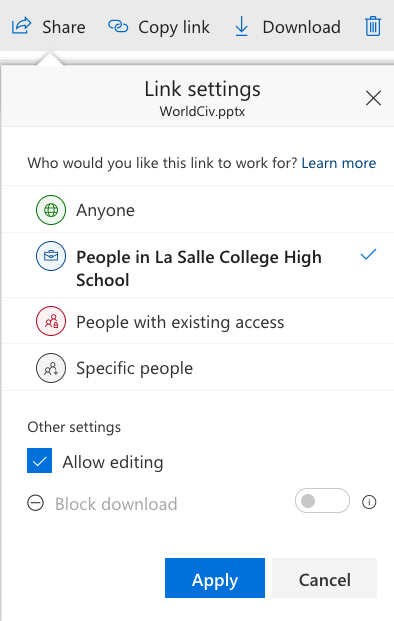 Our subscription to Office 365 provides you with access to OneDrive for Business. Features include:
1TB of storage
Store and share files up to 15GB in size
Share files securely inside and outside our school
Sync local copies of files or folders for offline viewing and editing on Mac or PC
Access files from anywhere with OneDrive mobile apps for Android, iOS and Windows
If you would like assistance with OneDrive or any other tools or technologies, please send us a message at TechIntegration@lschs.org.
Click here to learn even more about OneDrive.